WillMow Reclamation & Salvage is a family run business specialising in architectural antiques consisting of stone, cast iron and woodwork. Mainly focusing on exterior items such as architectural stone carvings, troughs and reclaimed building materials, we also sell various interior items to make a statement piece in your home.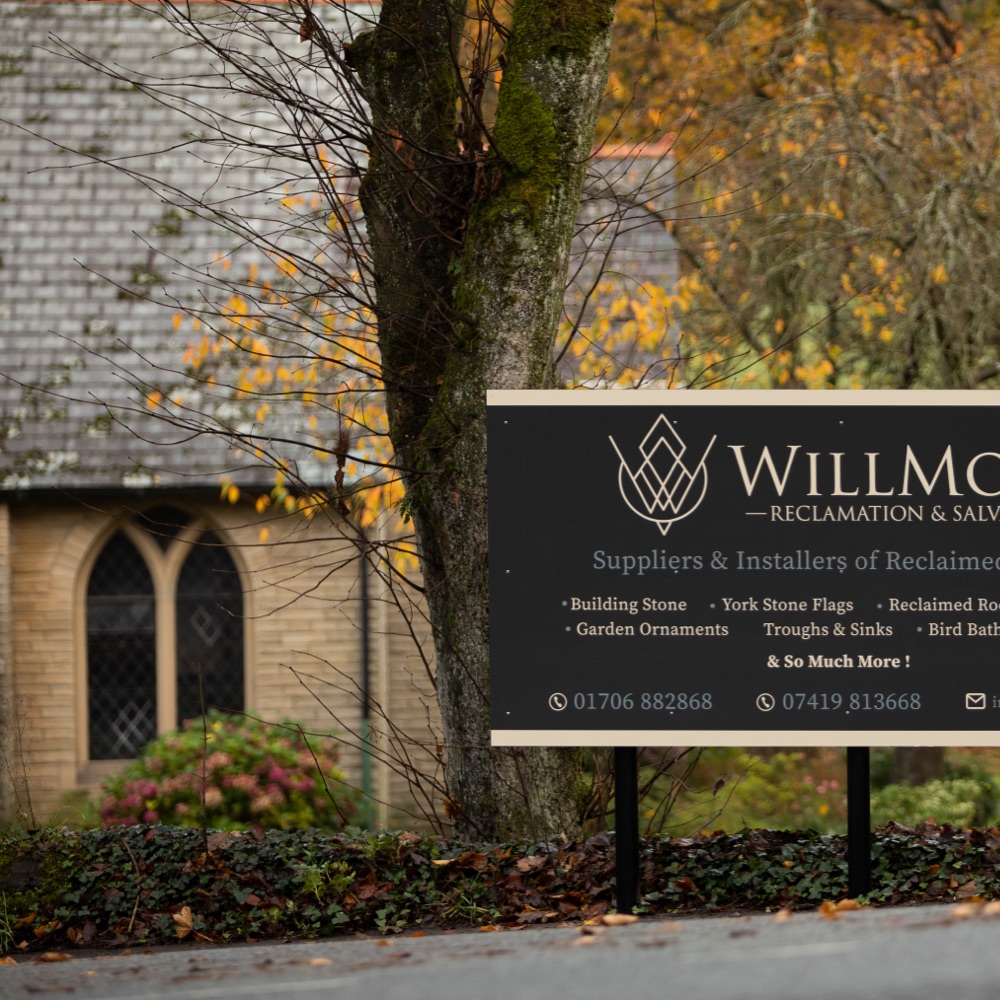 Set in the outskirts of the beautiful disused Pingot Quarry, surrounded by stunning scenery of moorland and wildlife, the WillMow yard is a very pleasant place to visit. The yard itself contains a well managed and extensive range of reclaimed artefacts, which is a pleasure to explore in an outdoor environment. Just 5 minutes from Junction 21 off the M62, with good access for all types of vehicles, and secure on-site parking. We'd be delighted if you came to visit us!
We have spent many years working with our customers, going the extra mile to ensure 100% customer satisfaction. We always plan ahead and ensure that the property we are working on is well respected and left in the same condition we found it.
One of the most important aspects of our work is to preserve the incredible heritage our nation holds. From preiod stonework, to architectural sculptings and carvings, we work incredibly hard to reclaim, restore and re-home these beautiful British artefacts.
As we are all well aware, our planet is in a very delicate position. The more we do to limit waste and energy consumption the better. Our work not only reduces waste, we are also reducing energy usage in the manufacture of new products, thus reducing our carbon footprint.
Our team have a wide range of skills and are here to assist you in any way they can.
Having started the business back in 2017, Will soon realised his fondness for architectural antiques and a clear gap in the market in his area for this sector as well as a lack of online presence for these products. Always having a keen interest in business from a very early age he put the two together and the company went from strength to strength. A short time later Will and his dad (David) joined forces, with a young unstoppable drive and an unprecedented knowledge of stone work here we are today as we continue to grow and show the world what architectural curiosities the UK has to offer.
David has spent the past 30 years within the construction industry focusing on stone masonry work…. His knowledge within the industry is second to none. Working with period buildings for this long has meant his knowledge can be passed throughout the business being able to turn his hand to restoration projects, giving some of our English heritage a new lease of life as well as having an exceptional eye for finding hidden treasures which lay throughout the UK.
Victoria has a life time career within the banking industry, with this knowledge Victoria brings a key role within the company dealing with all account related queries, invoicing and sales enquiries. As well as a happy face you will often see Victoria around the yard keeping everybody on their toes. A crucial core value that Victoria engraves throughout the companies morals is customer service, building a relationship between WillMow and the customer is at the heart of what we do.
Rebecca lets the world see our amazing products. With items going as far as the USA, it is important that our products are pictured and live for the world to see through all social media platforms and website. Rebecca also deals with customers on a day to day basis ensuring each transaction is effortless and all customers receive 100% customer satisfaction.